Hey Kittens! Here is the 16 personalities as Naruto characters. I did this before with Death Note characters. Here's the link to that.
Hope you guys enjoy!
Here is the test if you don't yet know your type 🙂
Again, we are starting with introverts in this first part, then extroverts in the second part.
If you are INTP you are Kakashi!
Kakashi is a sweet, caring gentleman. He is addicted to reading his book (blushing while he's at it).
INTP's are reserved and thoughtful. They will (like any good introvert) make excuses to not go to a party or social event and would rather read their book(s) at home.
They tend to focus on the big picture instead of the tiny details.
If you are INFP you are Hinata!
Hinata is sweet and quiet. She has a huge crush on Naruto and admires him for his confidence and drive.
INFP's are very focused on their goal(s) and won't let anyone get in their way of achieving them. They might seem quiet on the outside but not on the inside. Despite being sweet and caring, INFP's tend to get a little dark and depressing. They make great friends all the same! ☺
(FYI, Gaara is also INFP)
If you are INFJ you are Itachi!
Itachi is not what I'd call "go with the flow". He is stubborn, and doesn't like others to get in his way.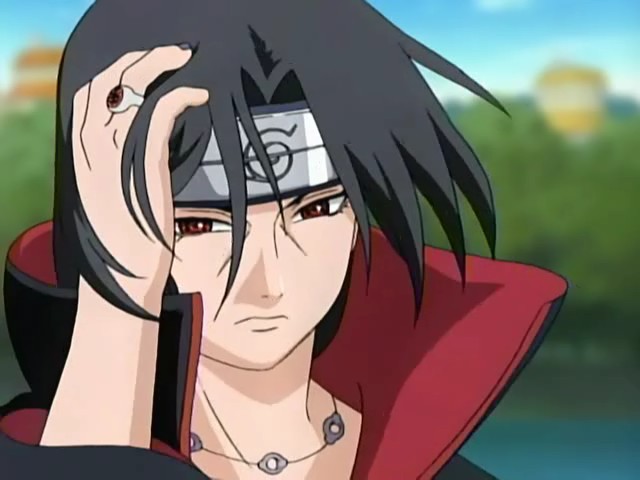 INFJ's rarely ever show their feelings. They don't seem to understand anyone else's emotions.
They usually prefer solitude over having a romantic partner.
If you are INTJ you are Sasuke!
Ah, Sasuke. The village heartthrob. INTJ's are normally attractive. Their quiet ways and serious expressions are found charming by many.
INTJ's would rather work alone than with a large group of people. They take criticism well and see it as an opportunity for them to work on their weaknesses.
Overall, INTJ's are pretty nice if you get on their good side.
If you are ISTJ you are Neji!
Neji is practical and neat. His personality is almost the opposite of his sister, Hinata.
ISTJ's don't like to relay on feelings. They use hardcore facts and their judgement to get out of a difficult situation.
ISTJ's love tradition, they follow rules very carefully. If anything is out of place, an ISTJ's top priority is to fix it right away.
To sum it up, ISTJ's are very strict, hate messy things, and love everything in their place.
If you are ISFJ you are Haku!
If you are ISFJ you are most likely as loyal as Haku Yuki. Haku shows his loyalty to Zabuza by becoming "a tool for his use." Haku is one of my favorite characters in Naruto because he is one of the characters who has suffered the most and his backstory is so complex.
ISFJ's are selfless and kind. They will protect their comrades even if it means death.
ISFJ's are often too loyal, overloading themselves and letting others use them as we can see with Haku and Zabuza. Zabuza manipulates him and Haku, being so loyal, lets Zabuza use him like a weapon. To all the ISFJ's out there, please don't let anyone use you and destroy you mentally!
If you are ISFP you are Choji!
Most might say Choji is a little… overweight. But he has a heart as big as an ISFP's. He will protect his friends and shows surprising strength.
ISFP's are very gentle and are always willing to stand up for their companions. They focus on the little things rather than the big picture.
At the same time they like to be independent and do not tolerate anyone getting in the way of their dreams. ISFP's just want to have a good time and enjoy themselves!
If you are ISTP you are Pakkun!
Don't be deceived by Pakkun's adorable looks! He is not an opponent you would want to fight against. ISTP's are extremely useful in a battle and use their abilities wisely to get the job done.
My favorite thing about ISTP's is they are easy-going and calm under pressure. We see this in Pakkun as he is always ready for a mission whenever Kakashi summons him. ISTP's are also very practical, they like to look for the most effective and speedy route to reach their destination.
The extroverts are coming in part 2 of this series!
Love you all!
If you follow my blog I'll give you this strawberry.